Rhubarb New Year's Eve Recipes
Drinks, Cocktails, Punch, Snacks, Fruit Tray/Dip
 Try Something Unique and Different
Ideas for the Best New Year's Eve Recipes made with Rhubarb, for unique and different Drinks, Cocktails, Punch, Snacks and more!
*FTC Disclosure: As an Amazon Associate I earn from qualifying purchases with no extra cost to you
*FTC Disclosure: As an Amazon Associate I earn from qualifying
purchases with no extra cost to you
Are you organizing or hosting a New Year's Eve Celebration this year?
GOT Rhubarb in your freezer?

If so, I believe you will find recipes here to inspire you to make fun, easy and unique recipes that will tantalize your guest's taste buds.
Rhubarb Sauce/Topping
I like to use my freezer rhubarb to make a large batch of rhubarb stew.
Rhubarb Stew is so versatile! It can be used as a side for any dinner, as a topping on ice cream, pudding, rhubarb parfait or be used as an ingredient to make the most delectable smoothies ever!

---
---
It's easy to make a batch of rhubarb jam with frozen rhubarb! Use the jam to add a delectable, unique topping for ice cream!
---
Rhubarb Cocktails / Drinks
 Fun Rhubarb Drink Recipes made without Alcohol:
Rhubarb Slush

Rhubarb-Grapefruit Soda

Rhubarb Frozen Drink (Slushie)

Rhubarb Drink Recipes made with Alcohol:
Escaping the confines of the kitchen,
Rhubarb has made its way to the bar!
Rhubarb Spritzer

Rhubarb with Vodka & Grand Marnier

If you prefer, to save time and effort, you can purchase pre-made rhubarb cocktails and syrups online at *Amazon.com (see below)
Click on the images for more detailed product information and customer reviews.

When making your favourite rhubarb drink recipes, consider the special effect of "rim sugar" for that extra special drink pizzazz.
You can easily make your own rim sugar as follows:
Frost the rims of the glasses by brushing them with lemon juice and then dipping them in sugar. Let the rims dry until ready to serve.
You can also use "salt" instead of sugar.
Or you can purchase specialty rim sugar online at *Amazon.com (see below).

An All Natural Flavor Infused Cane Sugar!

---
---
Are you hosting a New Year's Eve Party at your home?
Raspberry-depot.com offers tips and ideas for how to make your Party stress-free, relaxed and a fun-filled celebration!
GO to Tips for Hosting a Stress Free Party at Home
Have you been invited to a New Year's Party?
Should you bring a gift for the hosts?
What's the "norm" anyways?
---
Rhubarb Punch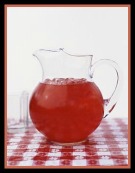 If you are planning on making punch for your festivities, Red Rhubarb Punch is a much welcomed and refreshing punch. Everyone loves something "different" and a Cool Rhubarb Punch is certainly a unique addition to any New Year's Eve Party!
GO to Rhubarb Punch Recipes

Having a punch bowl, or a punch dispenser full of delicious, festive fruit punch is much easier than trying to offer many different choices of beverage to satisfy every individual preference.
Almost everyone LOVES punch!
If you are considering buying a dispenser for punch and/or other drinks you will be serving, here (below) are some great choices from *Amazon.com.
Order these and you can (in most cases) have them delivered right to your home - how easy is that!?
See Also:  Why Punch Dispensers are More Efficient than Punch Bowls

---
Snack Foods
Of course, you can use your freezer rhubarb for making delectable

snacks such as rhubarb pies, crumbles cookies, desserts, cake and much more!
Use the navigation bars at the left of this website for links to over 250 amazing rhubarb recipe ideas!

---
Fruit Trays and Dips
If you are planning to make a homemade fruit tray for a New Year's Eve get-together, visit my "sister-site" Raspberry-depot.com for simple instructions and ideas of how to make your own fruit tray for your New Year's Eve Party or Get-together.

GO to  How to Make a Fruit Platter 

GO to  How to Make a Fruit Platter for a Crowd

Don't forget the Fruit Dip!

GO to  Collection of the Best Fruit Dip Recipes 

As you celebrate the coming of the New Year, and the passing of the Old Year, try to find time, during the busyness of the celebration, to reflect on "time"...time in the light of eternity.
Wishing my web-site visitors - A Blessed New Year!

---
TOP of Rhubarb New Year's Eve Recipe Ideas
HOME to Rhubarb-Central.com Homepage

Enjoy this Page?  Please Share!
©2010-2023  Rhubarb-Central.com
All Rights Reserved Worldwide
No Reproduction Permitted Without the Expressed
Written Consent of the Site Owner