Crockpot Rhubarb Crumble Recipe
Use the Slow Cooker or the Crockpot 
For Making a Rhubarb Dessert!
Have you every used the Crockpot for making a Rhubarb Dessert?
If not, why not start?
*As an Amazon Associate I earn from qualifying
purchases with no extra cost to you.
If you are like me, I don't use this appliance nearly as often as I really should!

I made this delicious recipe for Crockpot Rhubarb Crumble for a quick dessert with rhubarb using the Slow Cooker and rhubarb!
You can use fresh OR freezer rhubarb for this recipe.

I made this quick and easy Crockpot rhubarb dessert today using rhubarb from the freezer and ... wow, it turned out so ♥  yummy and dessert was ready when I was! 

If you prefer a crumble recipe with less topping, simply reduce the ingredients for the crumble topping by 1/3 or 1/2, and this crumble recipe will still taste amazing!

---
---
Ingredients
Note - If using frozen rhubarb for this recipe add the cornstarch to the sugar/rhubarb/cinnamon tossing mixture to prevent the crumble from being too wet.
FOR THE RHUBARB FILLING
6 cups chopped fresh or freezer rhubarb (1/2" - 1" size pieces)
1/2 cup granulated sugar
1/4 tsp. cinnamon, or more to taste
*1 1/2 tbsp. cornstarch
FOR THE OATMEAL CRUMBLE TOPPING
3/4 cup butter, slightly soft
1 cup brown sugar
1 1/2 cups oats
1 1/8 cup all-purpose flour
1/3 cup chopped pecans, optional
Directions
FOR THE RHUBARB FILLING
Lightly grease the bottom and part-way up the sides of the Crockpot or the Slow Cooker.
In a large bowl, combine the chopped rhubarb, granulated sugar, cinnamon and the cornstarch (if using frozen rhubarb).
Toss and transfer mixture to the Crockpot.
FOR THE OATMEAL CRUMBLE TOPPING
In a large bowl, combine the butter and the brown sugar, and mix with a fork until well combined.
Add the oats, and continue to mix.
Add the flour, and continue to mix.
Add the pecans, and continue to mix.
Sprinkle the mixture over the top of the chopped rhubarb mixture in the Crockpot.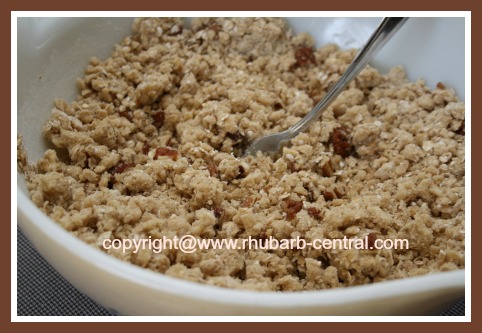 Cook, covered on "LOW" for 3 hours, or until done.
Remove the Crockpot lid, and leave the crumble to stand for about 15 minutes to allow extra moisture to evaporate.
Serve warm or cooled with a dollop of whipped cream, whipped dessert topping, or vanilla ice cream.
YUMMY! A Simply Delicious Crockpot Rhubarb Dessert Recipe!
Serves 8 - 10.

---
---
---
Baking Tips
If you have whole pecans (or other nuts) on hand, it's easy to chop them without the use of a blender.
Simply place the whole nuts between a piece of waxed paper, or a plastic bag, and roll over the nuts with a pastry rolling pin!
---
TOP of Crockpot Rhubarb Crumble

RETURN to More Rhubarb Crumble Recipes

HOME to Homepage

©2010-2019  Rhubarb-Central.com
All Rights Reserved Worldwide
No Reproduction Permitted Without the Expressed
Written Consent of the Site Owner