Strawberry Rhubarb Cake Recipe
Fresh Rhubarb Cake with Strawberry Jello/Gelatin
This quick and easy Strawberry Rhubarb Cake Recpe is delight to make ... if you have fresh rhubarb on hand, it's time to make a rhubarb cake!

You will need 4 cups of chopped rhubarb for this recipe.

---
---
Treat your family and friends to something different for dessert or snack time today! 

Ingredients
FOR THE BASE
1/2 cup granulated sugar
4 tbsps. butter
2 eggs
2 cups all purpose flour
2 tsps. baking powder
2/3 cup milk

FOR THE FILLING
4 cups chopped rhubarb, fresh
2 (85 gram size) pkges. strawberry gelatin (example: "Jello")
FOR THE TOPPING
1 cup granulated sugar
1/2 cup butter
1 cup all purpose flour

Directions

FOR THE BASE
In a large bowl, add the sugar and butter, and cream (using an electic mixer) until well combined.
Add the eggs, and gradually add the milk alternately with the flour and the baking powder. The batter will be "thick and sticky".

---
---
Transfer the batter to a lightly greased 9" x 13" baking dish, and smooth out using a spatula or the underside of a large spoon.
FOR THE FILLING
In a bowl, mix the rhubarb and the gelatin powder and spread over the base layer above.
FOR THE TOPPING
In another bowl, combine the sugar and the butter and cream together.
Add the flour, mixing (by hand), until well combined (mixture will be crumbly).
Spread the topping over the filling in the dish.
Bake at 350° F for about 50 minutes, or until a toothpick inserted in the center comes out clean.
Serve warm or cooled, plain, or with a dollop of ice cream or whipped cream.

YUMMY!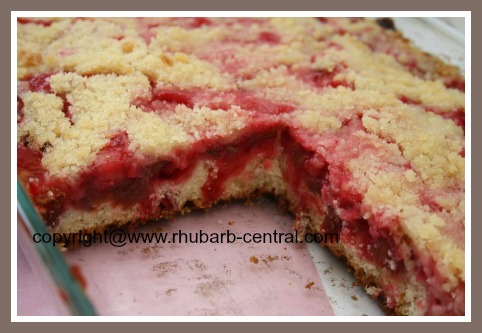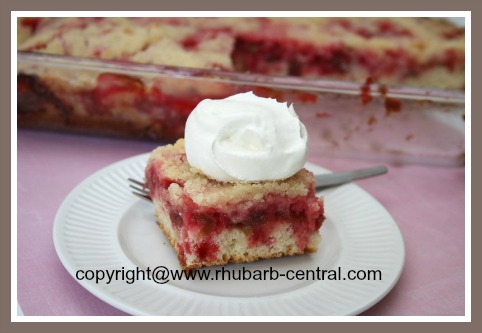 Did You Know?
Did you know that the flower stalk or seed pod that rhubarb plants produce from time to time, in the Spring, should be removed immediately when they appear?
The flowers and seed pods of the rhubarb plant are extremely beautiful, but leaving them intact will cause the plant to devote its energy to the seed production, and the development of leaf stalks will be hindered. To maintain the maximum yield from your rhubarb garden, it is important that the plants not be allowed to go to seed.
GO to Rhubarb Flowers

---
---
TOP of Strawberry Rhubarb Cake Recipe
 
RETURN to More Rhubarb Cake Recipes

HOME to Homepage

Copyright ©2010-2018  Rhubarb-Central.com
All Rights Reserved Worldwide
No Reproduction Permitted Without the Expressed
Written Consent of the Site Owner

* Rhubarb-Central.com is a participant in the Amazon Services LLC Associates Program, an affiliate advertising program designed to provide a means for sites to earn advertising fees by advertising and linking to Amazon.com.