Strawberry Rhubarb Bread Recipe
Make a Healthy Loaf of Rhubarb Quick-bread
Here is a delicious Strawberry Rhubarb Bread Recipe which was sent to me by a kind website visitor to Rhubarb-Central.com.

*FTC Disclosure: As an Amazon Associate I earn from qualifying purchases with no extra cost to you
*FTC Disclosure: As an Amazon Associate I earn from qualifying
purchases with no extra cost to you
This rhubarb bread recipe can be made using fresh OR frozen rhubarb and strawberries.
I like to use some of the many bags of frozen rhubarb in my freezer to make rhubarb loaves and rhubarb muffins, and this recipe is one of them!

If you are planning to make this recipe with your frozen rhubarb, simply defrost the frozen rhubarb in a sieve over a bowl.
I usually do so on the kitchen counter the evening before, and then discard the excess liquid.
Be sure to thaw enough frozen rhubarb, as it tends to "shrink" after it has thawed!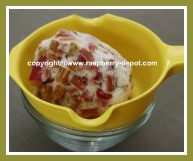 Ingredients
1 1/4 cups chopped fresh or frozen rhubarb
1 1/4 cups fresh or frozen strawberries
1 tbsp. water
1/2 cup chopped walnuts or pecans
1/2 cup whole wheat flour
1/2 cup all-purpose flour
1 cup granulated sugar
3/4 tsp. baking soda
1/4 tsp. salt
2 medium size eggs
1/4 tsp. almond extract
1/2 cup vegetable oil
---
---
Directions
In a medium size pan, combine the chopped strawberries and rhubarb, bring to a boil over medium-high heat, and then reduce temperature to low heat and allow the mixture to simmer until slightly tender (about 6 minutes).
Remove the rhubarb/strawberry mixture from the heat, and allow mixture to cool.
In a large bowl, whisk together the whole-wheat flour, all-purpose flour, chopped nuts, sugar, soda, and the salt.
In a smaller bowl, whisk the eggs, and then add the almond extract and the vegetable oil.
Gradually add the egg mixture to the dry ingredients mixing just until well combined. Do not over-mix. Over-mixing will result in a quick-bread that is too dense.
Gently fold in the cooled rhubarb and strawberry mixture. 
Transfer the bread batter into a greased (I use non-stick cooking spray), 8" x 5" (or smaller size if you desire a higher loaf) loaf pan.
Bake at 350° F for about 50 - 60 minutes, or until a toothpick inserted in the center comes out clean.

---
---
I added a foil shield (see photo and tip below) to help prevent the edges of the loaf from becoming too dark, after the bread had baked for 35 minutes
Cool bread in pan for about 10 minutes, and then remove the rhubarb bread to a wire rack and allow loaf to cool completely.

Baking Tip
To avoid the edges of the rhubarb bread from becoming too dark or burning, I like to make a shield out of aluminum foil, as you can see in the image above.
Place this over the pan after the bread has baked for about 40 minute. Works great!
This is a similar idea to the pie crust shield,  which you can also make yourself, or purchase. See:  The Pie Crust Shield

---
TOP of Strawberry Rhubarb Bread

RETURN to More Rhubarb Bread Recipes

HOME to Homepage

Enjoy this Page?  Please Share!
©2010-2023  Rhubarb-Central.com
All Rights Reserved Worldwide
No Reproduction Permitted Without the Expressed
Written Consent of the Site Owner