Strawberry Rhubarb Muffins Recipe
Fresh Rhubarb Muffins With Cornmeal
These Fresh Rhubarb Strawberry Muffins are made with cornmeal - a great idea for baking a healthier rhubarb recipe with fresh rhubarb and strawberries!

*FTC Disclosure: As an Amazon Associate I earn from qualifying purchases with no extra cost to you
*FTC Disclosure: As an Amazon Associate I earn from qualifying
purchases with no extra cost to you
My family didn't "think" they liked cornmeal muffins ... until I made these ... and then they realized that they LOVE them!

Rhubarb muffins are that are a joy to bake ... AND to eat!

Why not make a batch or two, and put the ones you do not eat fresh into the freezer for a quick lunch on another day ... if there are any left-over that is ;)
These muffins will freeze well for several weeks at least.

---
---
Ingredients

1 3/4 cups all-purpose flour
1/2 cup granulated sugar
3/4 cup yellow cornmeal
2 1/2 tsp. baking powder
3/4 tsp. salt
3/4 cup fresh chopped rhubarb
1/2 cup fresh strawberries, thinly sliced (or diced if large)
1 egg
3/4 cup milk
1 tsp. vanilla
1/3 cup butter, melted

Directions

In a bowl, combine the flour, sugar, cornmeal, baking powder and salt.
Take about 1 cup of the above mixture, and add the rhubarb and the strawberries, tossing to coat. Set aside.

In another bowl, beat (with an electric mixer) the eggs, and add the milk and the vanilla and beat together.
Stir this into the remaining of the original mixture, and stir in the melted butter. The batter will be lumpy.
Spoon a lump of batter (about 2 tbsps.) into each of 12 lightly greased muffin cups, and divide the coated rhubarb and strawberries evenly among the muffins.
Divide the remaining batter among the muffin cups, on top of the rhubarb and strawberries layer.
Bake at 400° F for 20 minutes, or until the muffins are golden brown, and the tops spring back when lightly pressed.
Makes about 12 medium size muffins or 9 - 10 medium-large size muffins.
So scrumptiously scrumptious healthy rhubarb strawberry muffins!
Enjoy them!

---
---
As with most muffins, they taste AMAZING when they are still warm out of the oven!

Do you ♥ beautiful cake and pastry stand like I do?
If so, check out my favourites!
GO to Cake Stands – How to Display Your Baking in a Beautiful Way 
How do you store your flour?
For tips on how to store your flour to keep it fresh,
GO to Flour Storage – How to Keep Your Flour Fresh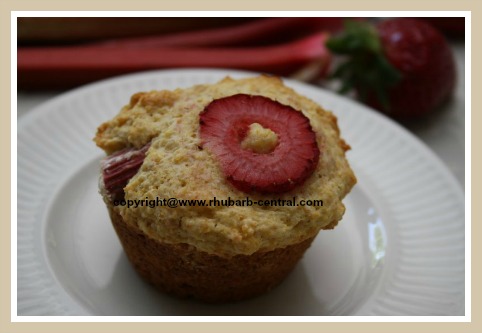 ---
TOP of Rhubarb Strawberry Muffins Recipe

RETURN to More Rhubarb Muffin Recipes

HOME to Homepage

Enjoy this Page?  Please Share!
©2010-2023  Rhubarb-Central.com
All Rights Reserved Worldwide
No Reproduction Permitted Without the Expressed
Written Consent of the Site Owner