Best Rhubarb Nut Cake Recipe
A Family Favorite Cake
With Fresh or Frozen Rhubarb
If you are looking for a Rhubarb Nut Cake Recipe, you have just found the best one!
*FTC Disclosure: As an Amazon Associate I earn from qualifying purchases with no extra cost to you
*FTC Disclosure: As an Amazon Associate I earn from qualifying
purchases with no extra cost to you
This recipe makes a deliciously moist cake which will quickly become a "family favorite" rhubarb recipe.

Raye S., a regular visitor to Rhubarb Central.com submitted this recipe to share with other visitors, Thanks Raye!

 I think this is the best rhubarb cake I have ever made :)

---
---
Ingredients
FOR THE TOPPING
1/2 cup granulated sugar
1/2 cup chopped pecans or walnuts
1/2 tsp. ground cinnamon
1 tbsp. butter, melted

FOR THE CAKE
Note: If you are planning to use frozen rhubarb for this recipe, thaw it the evening before, in a sieve, over a bowl and discard the excess liquid.
1 1/2 cups brown sugar
1/2 cup shortening
1 egg
2 cups all-purpose flour
1 tsp. baking soda
1/2 tsp. salt
1 cup sour cream
2 1/2 cups chopped fresh or frozen rhubarb

Directions
FOR THE TOPPING
In a small bowl, mix the granulated sugar, chopped nuts, cinnamon and melted butter and set aside.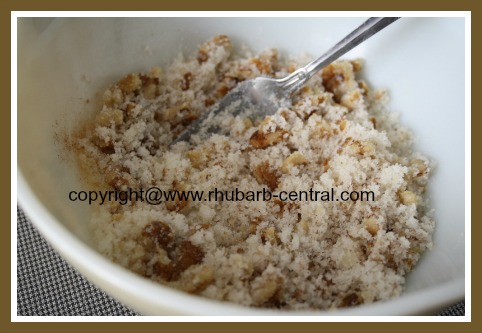 FOR THE CAKE
In another, larger bowl, using a fork, cream together the brown sugar and the shortening, and then mix in the egg.
In another bowl, combine the flour, baking soda, salt.
Add the flour mixture alternately with the sour cream to the creamed shortening mixture, and mix just until well combined.
Gently fold in the chopped rhubarb.

---
---
Transfer the cake batter to a greased, 9" x 13" baking dish. (I used a glass baking dish).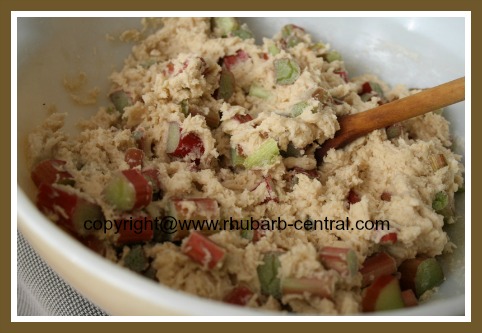 Sprinkle the reserved crumble topping mixture over the top of the batter in the baking dish.
Bake at 350° F for about 45 minutes or until a toothpick inserted in the center comes out clean.
Serve cake warm or cold, plain, or with a dollop of whipped cream or ice cream.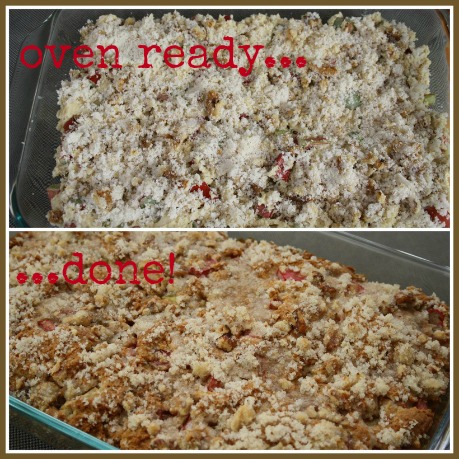 Above is the picture Raye sent me of her Rhubarb Cake she made (the recipe on this page), and the Rhubarb Salad Recipe she made using this recipe:
Rhubarb Salad with Mixed Baby Greens

Baking Tip
To chop whole nuts, simply place the nuts between a piece of folded waxed paper, or inside a plastic bag, and roll over the nuts with a pastry rolling pin (see picture at right or below in mobile view).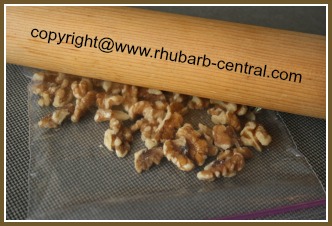 ---
TOP of Best Rhubarb Nut Cake Recipe

RETURN to More Recipes for Rhubarb Cake

HOME to Homepage 

Enjoy this Page?  Please Share!
©2010-2023  Rhubarb-Central.com
All Rights Reserved Worldwide
No Reproduction Permitted Without the Expressed
Written Consent of the Site Owner