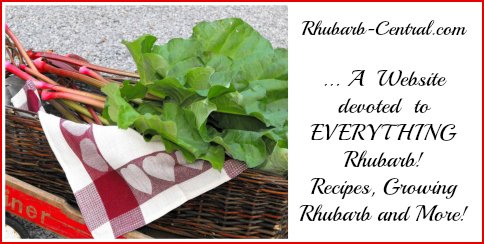 Rhubarb Blog
The Rhubarb Blog lets you know whenever any new or changed web pages appear on Rhubarb-Central.com
By keeping an eye on my Blog, you will never miss the latest Rhubarb Recipes, Growing Information and Tips.

.
To subscribe to my Blog, (no email necessary), right-click on the orange RSS button, (see the middle of the right hand column of website,) and then paste the URL into your RSS reader. Or click on the My Yahoo!, MY MSN, or FOLLOW button if you prefer to read my Blog updates there.
Why not "Like" my "Rhubarb Recipes at Rhubarb Central" Facebook Page - see right-hand column (or scroll down for mobile view), and receive updates that way!

Welcome the the Lil' Rhubarb Shop at Rhubarb Central.com
Here at the Lil' RHUBARB SHOP, you can find links to buy rhubarb seeds, plants, frozen rhubarb, jams, fillings and more, all at Rhubarb-Central.com!
Continue reading "Welcome the the Lil' Rhubarb Shop at Rhubarb Central.com"
Copyright ©2010-2017  Rhubarb-Central.com
All Rights Reserved Worldwide
No Reproduction Permitted Without the Expressed
Written Consent of the Site Owner

* Rhubarb-Central.com is a participant in the Amazon Services LLC Associates Program, an affiliate advertising program designed to provide a means for sites to earn advertising fees by advertising and linking to Amazon.com.